Medfield Pregnancy & Pediatric Chiropractic
At Saulnier Family Chiropractic, we are passionate about helping moms-to-be experience a happy, healthier pregnancy. Likewise, it's our delight to help children develop optimally, free from common childhood conditions.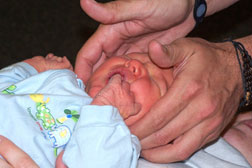 A Comfortable Pregnancy and Safer Delivery
The expanding belly and the rush of hormones can all add up to discomfort and pain during pregnancy. That's why it is vital to receive chiropractic care during this period – not only to alleviate the aches and pains associated with pregnancy but also to set the stage for a safer delivery. Many moms end up reporting shorter labors and easier deliveries. Just ask Dr. Marc's wife. The phrase we hear most often from expectant moms is, "I wish I started care sooner!"
A Natural Solution for Healthier Kids
Why would a child need chiropractic care? Even if their delivery went 100% according to plan, there could be a lot of stress and strain on your beautiful newborn. It's quite a journey from the womb to the outside world! Unfortunately, most children are brought into the world under less-than-ideal conditions. C-sections, vacuum deliveries, inductions and other interventions can all cause stress on the spine and nervous system of your child. Many of the common childhood issues (colic, nursing difficulties, breathing problems and ear infections) get their start from the stress involved with being born.
The stress on their developing bodies continues to add up as they learn to crawl, walk, wrestle with their siblings, etc. It's critical to remove the damage early before it becomes an ingrained habit pattern. Chiropractic is extremely safe and effective for children. Pediatric Chiropractor Dr. Marc has specialized training in caring for the pediatric population and practices what he preaches. He's been adjusting his daughter from the moment she was born. Chiropractic can help your child develop optimally and enjoy terrific health!
Discover how family health chiropractic can help moms-to-be and children enjoy happier, healthier lives! Contact us today to schedule an appointment.
---
Pregnancy and Pediatric Chiropractic Care Medfield | (508) 242-5161